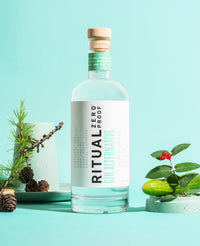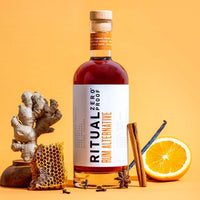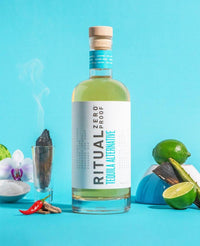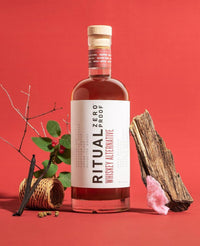 RITUAL ZERO PROOF
RITUAL ZERO PROOF SPIRITS
THIS ITEM IS FOR STORE PICK UP ONLY!! DUE TO WEIGHT, NO SHIPPING!!
Our gin alternative is flavor-forward. English cucumber and juniper berries hit the top notes. A mix of all-natural botanicals shimmy in the middle. And mint and basil round out the bottom. Consequently, it stiffens tonic and every kind of juice, but it also loves soda and a slice of lime.
Made with margaritas in mind, this golden-hued beauty balances flavors of traditional agave, charred oak, and bright Mexican lime. The finish is clean and spicy, with a kiss of cracked sea salt for good measure.
Ritual Rum Alternative.
Whether by land or by sea, rum is the perfect partner to a day of fun in the sun. But festive tropical beverages can take a lot out of you. That's why we created Ritual Rum Alternative. Because we love rum and everything that goes with it. Citrus and swizzle straws. Long walks on the beach. Summer in winter and summer in... summer. But we also love balance. A non-alcoholic daiquiri, mai tai or punch is the perfect third drink to keep the party going, and keep your sea legs. It's the cruise without the booze. The navy without the grog. The hurricane without the aftermath. And it just might be our best spirit alternative to date.


Ritual Tequila Alternative.
Made for margaritas, Ritual Tequila Alternative has been known to fool some people. In fact, close your eyes, take a sip, and tell us it doesn't have everything you expect out of a great marg. A few sips later and you might even feel like you're on a beach. (This works especially well if you're actually on a beach.)
Fun fact: Our Tequila Alternative is the highest rated non-alcoholic spirit in the world, with a score of 94 points from the Beverage Testing Institute. Calorie free, alcohol free, it means you're free to celebrate any time.
Ritual Whiskey Alternative.
The perfect complement to a good friend or a good book, Ritual Whiskey Alternative packs all the soul-warming heat and rich spice of a great American whiskey. A new-fashioned way to enjoy an Old Fashioned, it doesn't just play nice with orange or bitters, it cozies up to them like a fire on a cold day.
Ten calories and zero alcohol means it's all upside any time. Balance achieved.