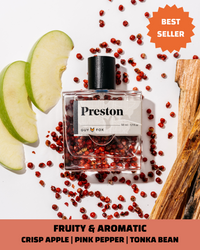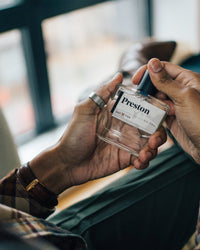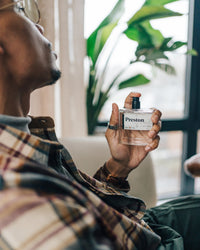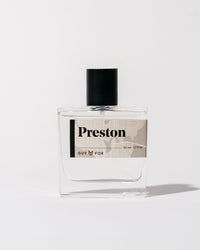 Guy Fox
Preston Cologne
Pronounced: "prest-in"
Scent Family: Green/Aromatic
Featured Notes: Crisp Apple | Pink Pepper | Tonka Bean
Developed with famed perfumer Frank Voelkl (creator of Le Labo's Santal 33), this is one of the most complex "people pleaser" scents we've ever released. Preston begins with fruity, crisp Green Apple, gets cut nicely with Pink Peppercorn, and rounds out with creamy Tonka Bean. Weird combo? We thought so too...until we smelled it. Not too sweet, not too aromatic, just right.
The real-life Preston has 8-pack abs, a lucrative, rewarding career, and a genuinely engaging personality. Will wearing this fragrance help you with any of that? We can't legally claim that, but we CAN say that it's scientifically-proven to be a step in the right direction!
A map of Seattle graces the label. The apple note fits Washington state perfectly, which is clutch because Seattle is Preston's hometown.
Scent Note Breakdown:
Top Notes: Crisp Apple, Pink Pepper, Violet Leaves
Mid Notes: Saffron, Lotus, Iris
Base Notes: Moss, Cedarwood, Tonka Bean
Concentration: 22% (Eau de Parfum)
Sizes: 50ml
Duration: Will last 6-12+ months depending on usage
Production: Made in the USA